Jan. 03, 2019
In industrial production or construction machinery hydraulic equipment parts in the space between the narrow and irregular, SAE 100 R16 R17 EN 857 1SC EN 857 2SC small bending radii hydraulic hose, hydraulic equipment, these soft and flexible apply.
Parameters: 1. Reinforcement layer: one or two layers of high tensile steel wire braiding;
2. Operating temperature: -40 °F to + 212 °F; -40 ° C to 100 ° C
3. Bending radius: 50mm-210mm;
4. Inner diameter: 1/4" to 1 1/4";
5. Standard: SAE 100 R16 R17-ISO 11237-1R16 R17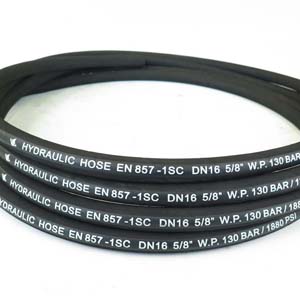 Uses: 1. High pressure cleaners are used to transport water and provide solutions for mobile and fixed high pressure cleaning systems.
2. Construction machinery is used to deliver hydraulic fluid to hydraulic components, valves, actuators and tools.
3. Hydraulic systems are often operated under high pressure or high pressure, so they are widely used in various industrial hydraulic systems.
Features: 1. Its reinforcing layer is woven from one or two layers of high tensile steel wire. It has similar specifications to SAE 100R1 R2 except for the stricter bending radius.
2. Black nitrile tubes do not react with water or petroleum based hydraulic fluids.
3. The neoprene protective layer resists wear, weather degradation and chemicals.
The compact hydraulic hose SAE100 R16 R17 is your best choice when you choose hydraulic hoses for narrow strokes.
In addition, our main products are fiber braided hose, smooth rubber hose, colored rubber hose, hose assembly, joints and tanker tubes.