May. 31, 2019
Order quantity: 20,000 meters
Delivery time: May 31, 2019
Delivery location: Hengshui Yatai Special Rubber Products Co., Ltd. (our factory)
Cargo volume: 20'' container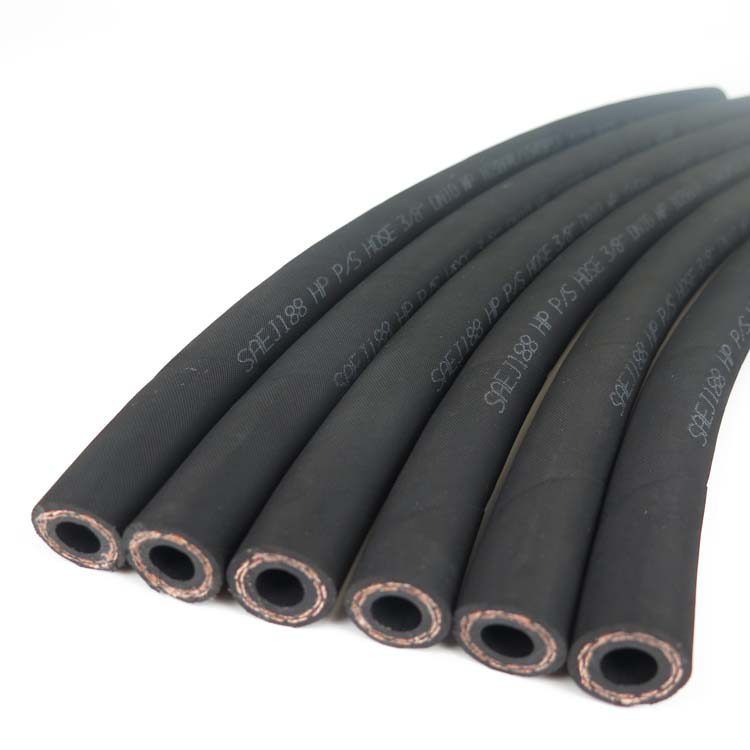 The quality inspection department of YATAI Hose is inspecting the imported SAE J188 oil-powered steering hose and SAE J189 oil-powered steering hose for the America customers, ensuring the inner diameter, appearance, performance and pressure of all the factory hoses. Packaging, labels, etc. meet the national standard, to achieve all root canal inspection.
The vehicle power steering hose includes an oil inlet power steering hose and a return oil power steering hose. It is a device that uses the power of the engine to help the driver to perform steering. It converts the energy of the engine into hydraulic energy (electrical or pneumatic energy), and then converts the hydraulic energy (electrical or pneumatic energy) into mechanical energy to help the steering wheel. The driver is turning, so it should be called the power steering system.
The structure and parameters of the power steering hose as follows:
Inner diameter: 3/8" (ID 9.8) Outer diameter: OD 19.8mm
Inner rubber layer: synthetic rubber is smooth material
Reinforcement layer: two layers of high-strength fiber braid;
External rubber layer: synthetic rubber is the outer rubber layer of the material;
Appearance: Glossy or textured surface, can be customized according to customer requirements
Temperature range: -40 ~ +135℃
Execution standard: SAE J188 oil-powered steering hose and SAE J189 oil-powered steering hose.
Due to the special environment of the use of the hose, it must have high pressure resistance, excellent pulse resistance, oil resistance, low temperature flexibility and good heat resistance, burst resistance and high tensile strength. In order to ensure a small change rate of the length of the pipe body under pressure, it can provide reliable and safe power steering performance under various conditions to ensure easy and safe operation of the vehicle.
At present, the customers are full of praise for our samples. At present, they are the fourth batch of orders since the sample was sent, and they expressed their willingness to use YATAI as their hose stabilizer supplier and gradually implement the order batch transfer.
YATAI rubber production hoses are all imported raw rubber, don't mix any reclaimed rubber, to ensure the quality while continuously improving the process to improve quality, use products to open up the market, use quality to shape the brand. Welcome friends who have needs to call us.
Contact us:
Alice Kuang (sales manager)
Tel/Whatsapp: +86 15603187125
QQ: 517026401
Email:alice@chnhose.com