Sep. 26, 2019
SAE J30 R6 / R7 Fuel hose
As the economy develops, the demand for fuel continues to increase. Various fuel hoses are designed to deliver fuel and are produced by large and small companies to accommodate the huge hose market.
As a member of the hose manufacturing company, Yatai has been committed to providing high quality, low cost fuel hoses. Our main products include biodiesel delivery hoses, fuel delivery hoses, diesel delivery hoses, fuel delivery hoses, gasoline delivery hoses, tanker hoses and fuel injection hoses.
Structure
Tube: Fuel and oil resistant synthetic rubber compound
Reinforcement: One textile braid
Cover: Environment resistant synthetic rubber
Temperature: -40 ℃ to +130 ℃
Standard: SAE J30 R6 / R7
Size: 3/16" to 1"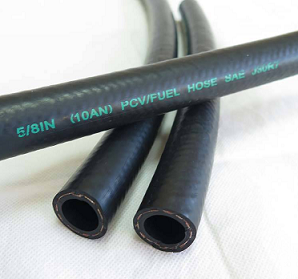 Automobile fuel hose, including fuel pipeline and fuel pipe for engine, is an important safety part.
Application:
It is designed for conveying gasoline, EN85 gasoline, diesel oil, oil, kerosene, hydraulic oil, lubricating oil and other related medium of oil, widely used in construction machinery, automobile, internal combustion engine and other fuel systems,the oil products with the contents of aromatic substances not more than 30%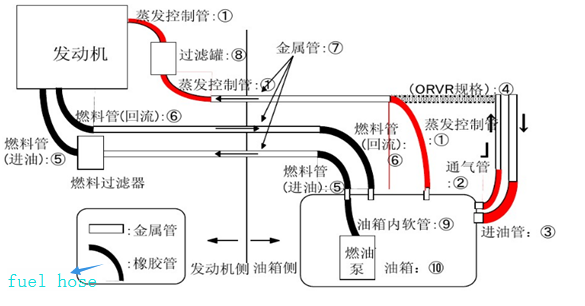 Advantage:
1.South Korea KUMHO imported raw materials
2.Flame retardant antistatic
3.Resistant to less than 30% ethanol gasoline
4.More flexible
5.Manufactory price, free sample
6.Good adhension
7.One meter MOQ
8.100% pressure test
9.Color optional
10.Smooth surface
More product recommendations: SAE100 R5
$Hose characteristics:
1. Excellent oil resistance, heat resistance and aging resistance
2. High pressure resistance and impact resistance
3. Excellent bonding, soft use and small deformation under pressure
4. Excellent anti-kinking and fatigue resistance, longer service life
$Hose application:
Medium pressure hydraulic petroleum based tubing, lubricants, air and water applications such as air brakes, power steering, turbocharger oil supply
Technical Services: 15603181870 www.chnhose.com