Aug. 08, 2017
Show time: October 31,2017 - November 3, 2017
The exhibition location: Shanghai new international expo center - 2345 Long yang road Pu dong new area
Exhibitors: Hengshui Yatai special rubber products Co.,Ltd.
(Beijing Proleader Co.,Ltd.)
Booth number:
E3 L5
The exhibition's brief introduction:
PTC ASIA2017 as power transmission and control technology is the most important display window,it is like a magnet to attract and brings together an international well-known enterprise,the innovation of small and medium enterprises, start-up companies, and as many as more than 70 countries from more than 70 professional visitors.
Held for the first time since 1991, PTC ASIA since the development of every two years to every year, exhibition area, exhibits of expanding, a doubling of professional audiences, greatly promote the international communication of the power transmission and control technology market and the development of the trade market.Exhibition for many international brands to enter China and Asia market not only provides the opportunity and an excellent platform more market in China has brought the global procurement.
Be the reason of the exhibitors:
Profession: interpretation power transmission and control technology of attention hot spot
Status: 4.0 the main trend of leading industry
Communication: leading the dominant industry of BBS
International: establish good trade relations with the users all over the world
Exhibition range:
1.Wire Braided Hydraulic Hose:EN853 1SN/SAE R1 AT,EN853 2SN/SAE R2 AT,EN 857 1SC,EN 857 2SC,SAE 100 R16,SAE 100 R17,SAE R5
SAE R14,Gas Hose(CNG/LPG),Steam Hose,Fuel Hose,Jet Wash Hose
Hot Oil Hose,Low Temperature;
2.Wire Spiral Hydraulic Hose:EN 856 4SP,EN 856 4SH,SAE 100 R12
SAE 100 R13,SAE R15,Drilling Hose;
3.Textile Reinforced Hydraulic Hose:EN 854 1TE/SAE 100 R6,EN 854 2TE
EN 854 3TE/SAE 100 R3,SAE R4,SAE R7/R8,Air Hose,Water Hose
Fuel Hose,S&D Hose,Concrete Placement Hose,Multifunctional Chemical Hose,A/C Hose,Silicone Hose,SAE J30 R6、SAE J20 R3 AN Hose;
4.Hose Fitting:Ferrule,Swaged Hose Fitting,One Piece Hose Fitting
Lnterlock Fitting,Reusable Hose Fitting;
5.Adapter:Metric Thread Bite Type,Metric Thread Fitting,GB,JB Thread Fitting,BSP,BSPT Thread Fitting,JIC,ORFS,SAE,NPT And NP SM Thread Fitting,Weld Fitting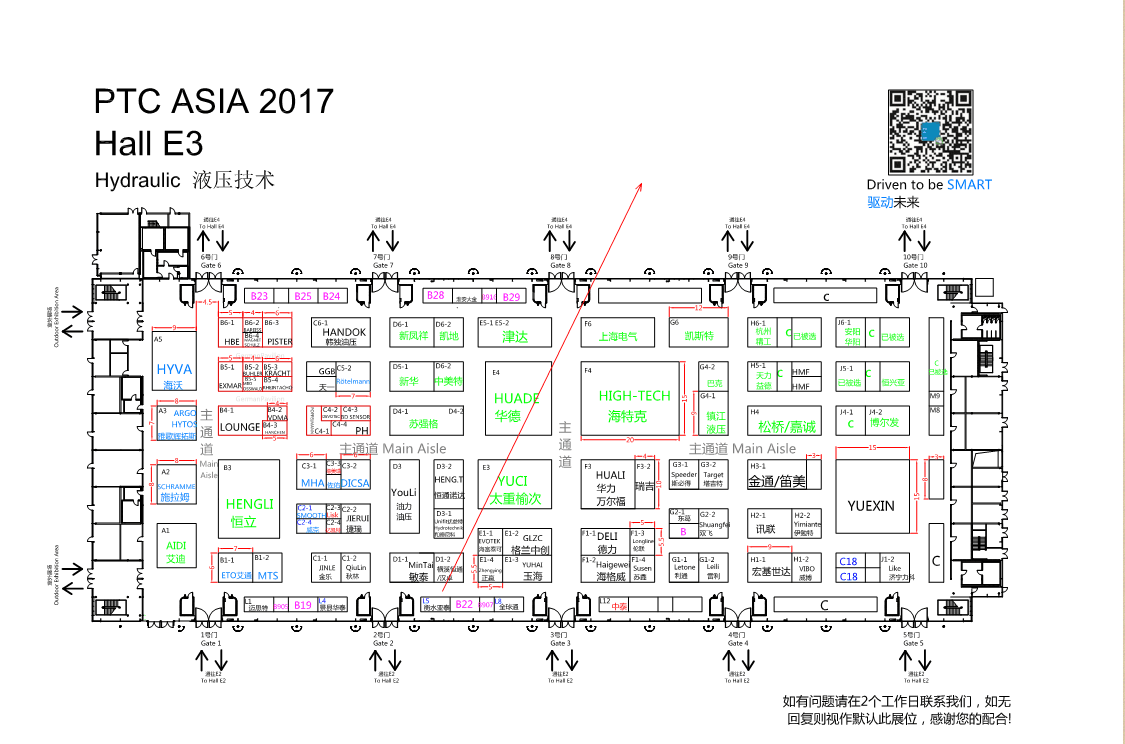 The exhibition date:
Installation: on October 29, 2017-30
Carry out: on October 31, 2017 - November 3
Move-in: on November 3, 2017
Service hotline:+8615603181870 +8615603181871 +861560318187