May. 25, 2021
Hello, everyone, I am a member of the wire-wound pipe family. Through the unremitting efforts of scientific research and technical personnel, my family has developed rapidly in technology. From single-reel steel wire winding to advanced four-reel 6-reel steel wire winding, steel wire winding hose has also become one of the mainstream hose products. At present, steel wire winding is soft. With its excellent resistance to high pressure, high temperature and pulse performance, the pipe is widely used in mine hydraulic supports, oil field development, engineering construction, lifting and transportation, metallurgical forging, mining equipment, ships, injection molding machinery, agricultural machinery, various machine tools, national defense, aerospace, etc. In cutting-edge technology fields and various industrial sectors, mechanized and automated hydraulic systems transport petroleum-based (such as mineral oil, soluble oil, hydraulic oil, fuel, lubricating oil) and water-based liquids (such as emulsification) with a certain pressure (higher pressure) and temperature Liquid, oil-water emulsion, water), etc. and liquid transmission, the highest working pressure can reach 70-120Mpa.

The structure of the winding hose is provided with an inner rubber sealing layer, a high-strength thick wire winding reinforcement layer, a middle rubber protective layer, a high-softness fine steel wire winding reinforcement layer and an outer rubber protective layer, and the outer layer is a high-soft thin steel wire structure that will hold the pressure layer. It is better to concentrate the inner ring to maximize the pressure of the steel wire, and the outer layer of high-soft thin steel wire is conducive to bending, so that the comprehensive performance of the steel wire-wound hydraulic hose can be improved; it can significantly improve the pulse performance and pulse resistance. The performance index can reach more than 1.2 times of the GBT-2003 national standard index, and it has also reached more than 1,2 times the index prescribed by the ISO international standard. The flexural resistance index can be increased by 30%, and the bending radius can be reduced by%. thirty.
The product categories are as follows:
1. EN 856 4SP Hydraulic Hose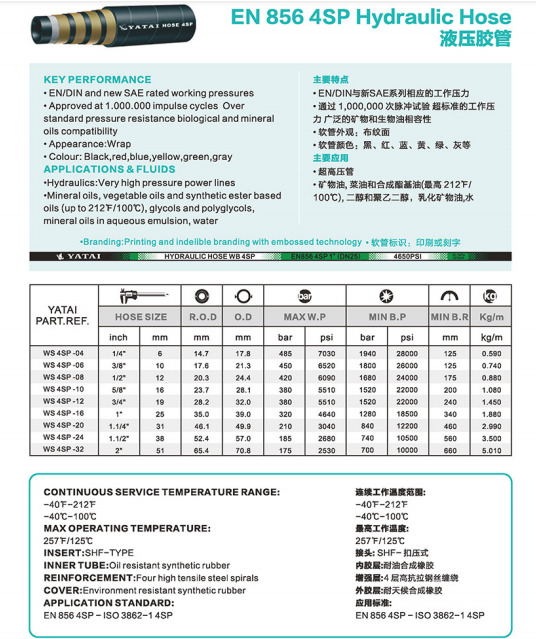 2.EN 856 4SH液压胶管/EN 856 4SH Hydraulic Hose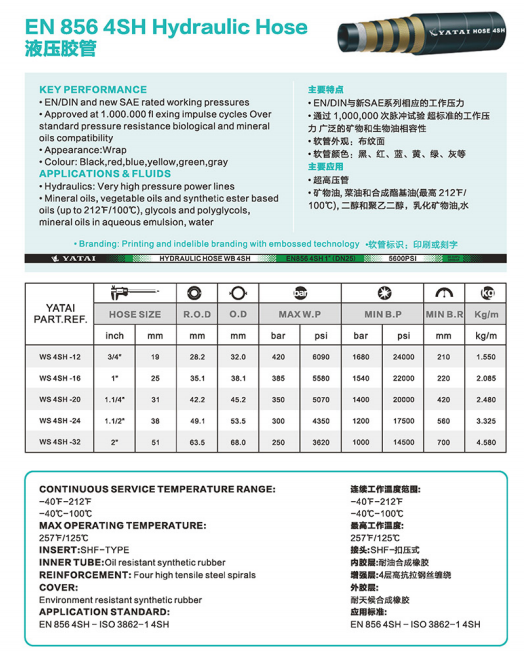 3. SAE 100 R12 Hydraulic Hose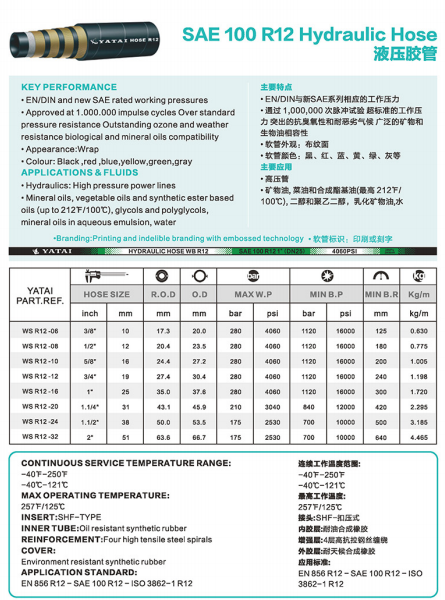 4. SAE 100 R13 Hydraulic Hose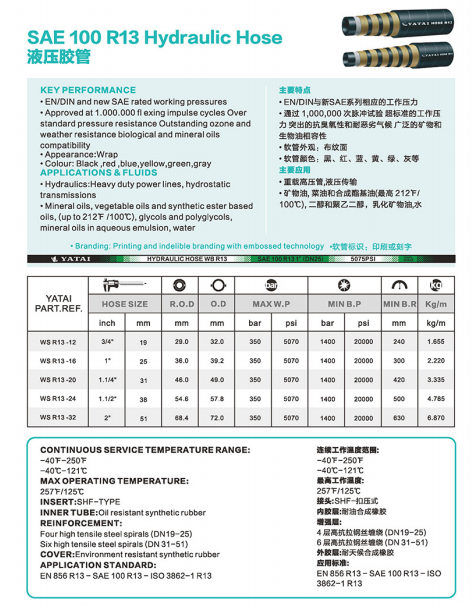 5. SAE100 R15液压胶管/SAE 100 R15 Hydraulic Hose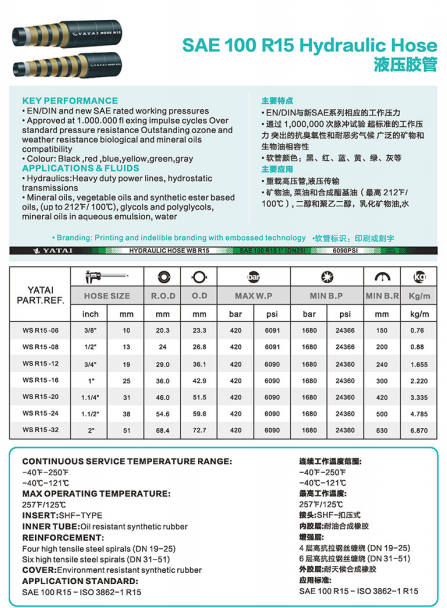 Features of high-pressure winding hose:
1. The hose has high bearing pressure and superior impulse performance
2. The hose has excellent bending resistance and fatigue resistance
3. The hose is made of special synthetic rubber, which has excellent oil resistance, heat resistance and aging resistance.
4. The tube body is tightly combined, soft in use, and small in deformation under pressure
The above is the basic information of the steel wire wound pipe. If you need more information, please contact our professional technical sales team.
Contact us
Penny Wang
TEL: +86 18331807383(wechat/whatsapp/skype)
E mail: penny@chnhose.com