Jun. 14, 2018
The structure of the fuel hose: It contains a smooth inner adhesive layer to resist the chemical corrosion, swelling and penetration of oxidizing fuel, a medium adhesive layer with certain oil resistance, and a textile fiber, yarn or rope to improve the compressive strength. Reinforcement layer and outer rubber with oil, ozone and heat aging.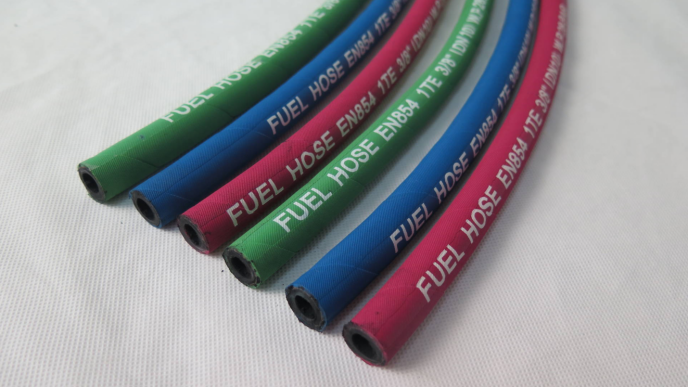 The implementation of fuel hose standards:SAE J30 R6/R3
The application of fuel hoses: The size of the low-pressure fuel rubber hoses is available in a wide range, with a wide range of pressure and temperature, and higher chemical resistance. The application fields of low-pressure fuel rubber hoses cover various fields of industrial production, manufacturing and circulation, and are used in petroleum, chemical, shipbuilding, shipyards, tankers, agriculture, food, beverage, pharmaceutical and other industries, as well as hot and cold water, steam, ventilation, cooling, Fire, hydraulic, medium such as gas, water, fog, muddy water, sand, iron grain and so on.
Fuel hose features: long service life; no animal raw ingredients; smooth inner wall provides smooth flow while easy to clean; low moisture absorption, low air permeability; hose is translucent color to visually monitor solution flow; by FDA Made of certified materials; meets USP, ISO and EP standards; can be autoclaved and autoclaved; tolerated. Bio-medicated beverages are designed for the production of peristaltic pump tubes especially for critical fluids and peristaltic pumps. The hose is translucent and flexible, suitable for fluid processing equipment. The industrial operating environment of the low-pressure fuel rubber hoses is more complex and harsher, and the equipment requirements for the delivery pipes are also more stringent. Therefore, the industrial hoses have strict standards and standards from design to material selection to production, transportation and even final storage.
Precautions for Fuel Hose: The fuel rubber hose expands and contracts with its internal pressure. Cut the hose slightly longer than you need. Be sure to use a low-pressure fuel rubber hose within the recommended temperature and pressure range. When pressure, please switch any valve slowly to avoid impact pressure. Use low-pressure fuel rubber hoses under their bending radius. Otherwise, the hoses will break and reduce the pressure resistance.
When fuel and rubber hoses are used with powder or pellets, they may wear easily depending on the conditions. Please enlarge the bending radius of the hose as much as possible. In the vicinity of the metal parts, do not use under extreme bending conditions. Do not touch or approach the hose directly. In the open fire, do not press on the hose with a vehicle or the like.
Contact us:
Alice(Sales manager)
Tel:+86-15603187125