Apr. 24, 2019
Poland customer-Ordered car brakes are shipped, details as follows:
Order quantity: 30,000 meters
Delivery time: April 20, 2019
Delivery location: Hengshui Yatai Special Rubber Products Co., Ltd. (our factory)
Cargo volume: 20'' container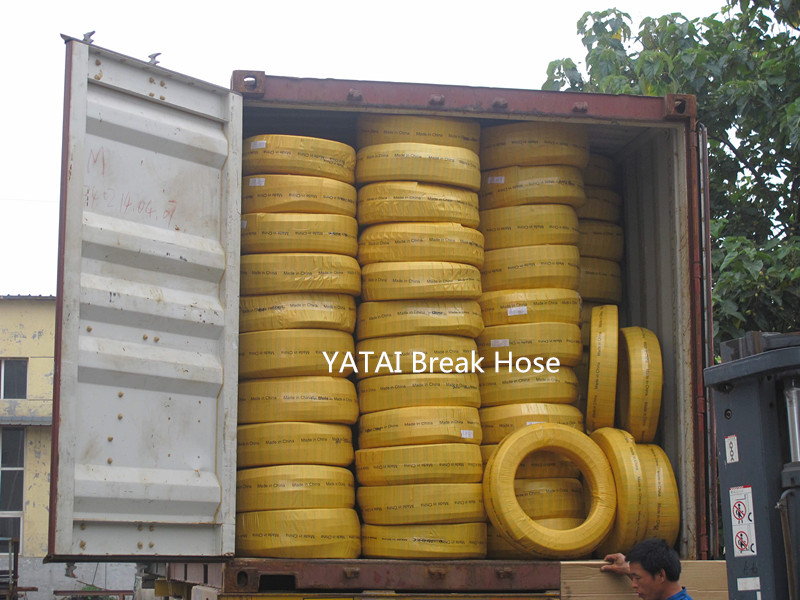 The commercial vehicle brake hose is a component used in the brake system of a commercial vehicle. Its main function is to transmit the brake medium in the brake of the vehicle to ensure the braking force is transmitted to the brake shoe of the automobile or the brake caliper to generate the braking force. So that the brakes are always effective.
Brake hose structure and parameters are as follows:
Inner diameter: 1/4" (ID ± 6mm);
Inner rubber layer: synthetic rubber is smooth material;
Reinforcement layer: 1 layer high strength steel wire braiding;
External rubber layer: synthetic rubber is the outer rubber layer of the material;
Appearance: Glossy or textured surface, can be customized according to customer requirements
Temperature range: -40 ° C - + 135 ° C
Before the shipment, our company's quality inspection department will carry out the final inspection to ensure that all the factory hoses are smooth and smooth without scratches and dirt, and the labels are firm and clear, so that the customers receive the goods without any quality objection.
Our production hoses are all imported from the original rubber, without adding any reclaimed rubber, to ensure the quality while continuously improving the process to improve quality. Welcome friends who have needs to call us.
Contact us:
Alice Kuang |sales manager
Phone/Whatsapp: +86 15603187125
E mail:alice@chnhose.com