Nov. 11, 2021
High-pressure cleaning truck and pipeline dredge car shuttle in the city, the countryside, shuttle in the streets, alleys. It will pass you by on your way to work, but it will also quietly blend into the beauty of the window. Whether the pipe network is blocked during heavy rain, or bad natural weather affects road life, hose dredging plays an indispensable role!

The demand of hose network construction in China is increasing day by day, and the demand of pipeline dredge machine hose is self-evident. From the cleaning truck, cleaning suction truck, Sewage truck, garbage truck, fire truck and cleaning service equipment, everywhere in the use of professional hose.
Yatai Rubber has always been on the road to provide the most convenient and best quality solutions for fluid transportation. The quality, flexibility and reliability of the special wear-resistant hose for high pressure dredge truck are particularly complicated. Our professional technical guidance is based on the function of the hose, combined with decades of research and development experience, to provide you with a choice of products.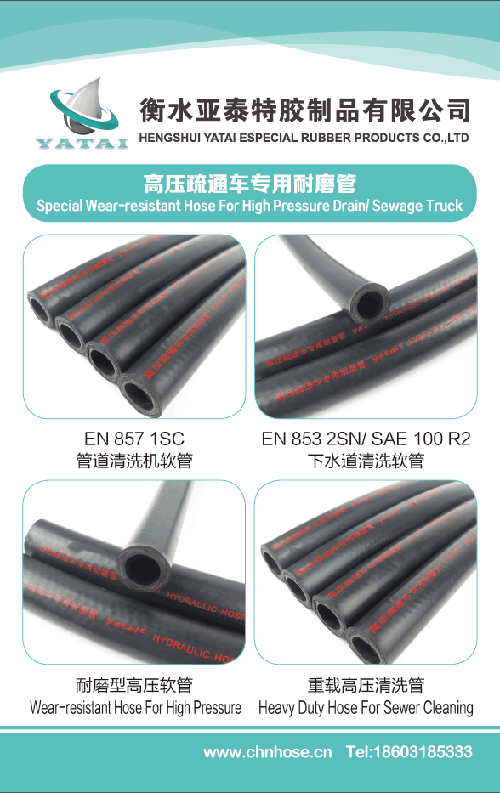 Yatai hose has the following characteristics, which is very important for municipal hose cleaning dredging:
1. The rubber content is more than 45%, the outer rubber layer is super high wear resistance, long service life and the best performance;
2. The braided density of steel wire is very high and the Angle is strict. The strength of steel wire is more than 10% higher than that of ordinary cleaning hose.
3. High resistance to environmental factors such as extreme temperature and temperature fluctuations, humidity, ultraviolet light and ozone;
4. Compact, space-saving and lightweight design helps optimize weight and reduce energy consumption;
5. Easy to use and assemble, provide assembly assembly service;
6. Accept special specifications, color, design customization.
Any of this, are you tempted? Echocardiography is better than action! Samples are free!
Contact ways:
Technical consultation: Penny Chen
Tel:+86 18331807383( wechat synchronization)
QQ: 2673360390
Email: penny@chnhose.com