Aug. 10, 2020
The global epidemic is developing in a positive direction, and foreign customer trade is gradually recovering. September is the peak purchasing season. The September Purchasing Festival is a grand event for transactions and services held by global small and medium-sized enterprises on Alibaba International Station. The carnival of practitioners of international trade. The 2020 Purchasing Festival will be held from September 1st to September 30th. Hengshui Yatai and Alibaba jointly held the "September Purchasing Festival" promotion event.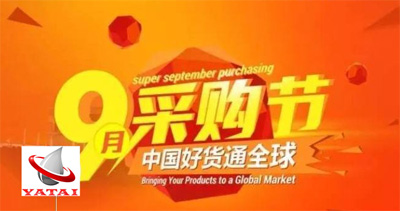 Products of this event:
Automobile and motorcycle industry Hose:
brake hose, power steering hose, air-conditioning hose, heat hose,fuel hose, spiral brake hose, Teflon hose, etc.
Raw material industry management hose:
1. Steel wire braided hydraulic hose: EN853 1SN/2SN SAE R1 AT/R2 AT, EN 857 1SC, 2SC, SAE 100 R16, SAE R5,, gas hose (CNG/LPG), steam hose, high-pressure cleaning hose , Heat-resistant hose
2. Steel wire wound hydraulic hose: EN 856 4SP, EN 856 4SH, SAE 100 R12, R13, R15, drilling hose.
2. Fiber-reinforced hydraulic hose: EN 854 1TE, 3TE SAE 100 R6R3, SAE R4 oil suction and discharge pipe, nylon resin pipe, air pipe, water pipe, oil pipe, suction pipe, multifunctional chemical pipe, air conditioning pipe, silicone pipe, heating Air duct AN tubing.
3. Hose connector: sleeve, crimping hose connector, integrated hose connector, inner lock hose connector, detachable hose connector.
4. Transition joint: DIN card sleeve type, metric joint, national standard, ministry standard joint, inch joint, American joint, welding flange.
If you book before August 31, 2020, you can enjoy preferential activities. Please consult us for details. If your heart is not as good as action, please book now.
Contact us
Alice Kuang
E mail: alice@chnhose.com
Tel: +86 15603187125