Sep. 23, 2021
Since the birth of ancient civilizations, starting from prehistoric wooden boats, after experiencing the era of canoes and wooden boats, it is now dominated by the age of steel-ships, which have not only strengthened the connections and commercial and cultural exchanges between all parts of the world, but also contributed to the evolution of human life and even civilization.
In March 2021, the "Fourteenth Five-Year Plan for National Economic and Social Development of the People's Republic of China and the Outline of Long-Term Goals for 2035" clearly stated to promote the innovative development of the shipbuilding and offshore engineering equipment industry and consolidate the competitiveness of the entire industry chain in the shipbuilding industry. Implement relevant supporting policies and supporting measures, and plan for the high-quality development of the shipbuilding industry during the 14th Five-Year Plan.
As an important part of the shipbuilding industry, the status and importance of ship pipes are becoming more and more obvious.
Mainly divided into the following categories: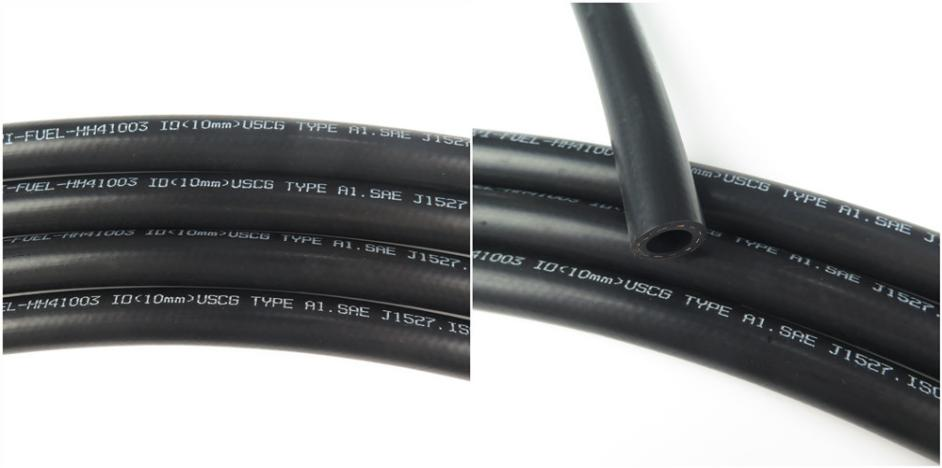 ① SAE J1527 Yacht Inlet and Unloading Hose
Key Performance:
• EN/DIN and new SAE rated working pressures
•High aging resistance Fuel application with push-on fittings (clamps recommended in fuel applications)
• Appearance: Wrap( I.D less than 25.4mm smooth cover)
• Branding: Printing,coding and indelible branding with embossed technology
• Colour: Black ,red ,blue,yellow,green,gray
Applications:
• Push-on hose for low pressure lines, return lines, drain lines
• Used in fuel system or in the crankcase of internal combustion engines in mobile (truck, bus, off-highway, vehicles), stationary and marine applications
• Mineral oils, vegetable and rape seed oils, glycol and polyglycol based oils, synthetic ester based oils, oils in aqueous emulsion, water, diesel fuel, gasoline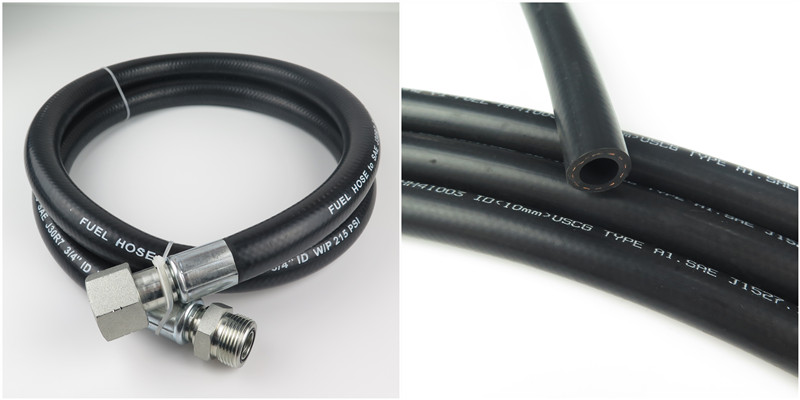 ② SAE J1527 Type B2 Non-Fire Retardant Marine Fuel and Drain Hose
Key Performance:
• EN/DIN and new SAE rated working pressures
•High aging resistance Fuel application with push-on fittings (clamps recommended in fuel applications)
• Appearance: Wrap( I.D less than 25.4mm smooth cover)
• Branding: Printing,coding and indelible branding with embossed technology
• Colour: Black ,red ,blue,yellow,green,gray
Applications:
• Push-on hose for low pressure lines, return lines, drain lines
• Used in fuel system or in the crankcase of internal combustion engines in mobile (truck, bus, off-highway, vehicles), stationary and marine applications
• Mineral oils, vegetable and rape seed oils, glycol and polyglycol based oils, synthetic ester based oils, oils in aqueous emulsion, water, diesel fuel, gasoline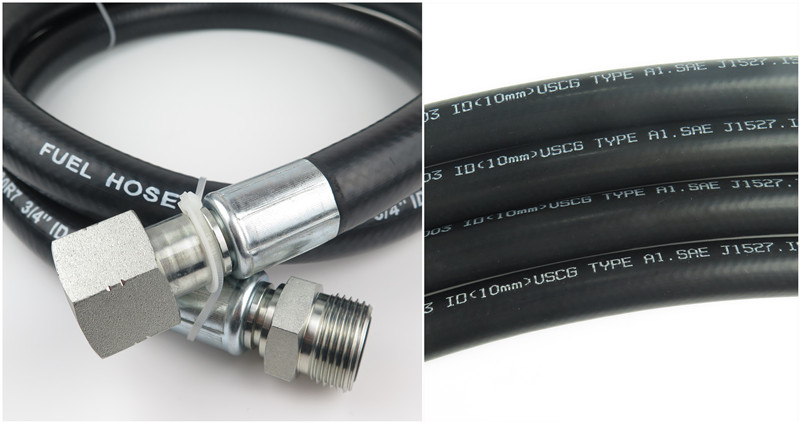 ③ SAE J1527 Type A2 Fire Retardant Marine Fuel Filling and Draining Hose
Key Performance:
• EN/DIN and new SAE rated working pressures
•High aging resistance Fuel application with push-on fittings (clamps recommended in fuel applications)
• Appearance: Wrap( I.D less than 25.4mm smooth cover)
• Branding: Printing,coding and indelible branding with embossed technology
• Colour: Black ,red ,blue,yellow,green,gray
Applications:
• Push-on hose for low pressure lines, return lines, drain lines
• Used in fuel system or in the crankcase of internal combustion engines in mobile (truck, bus, off-highway, vehicles), stationary and marine applications
• Mineral oils, vegetable and rape seed oils, glycol and polyglycol based oils, synthetic ester based oils, oils in aqueous emulsion, water, diesel fuel, gasoline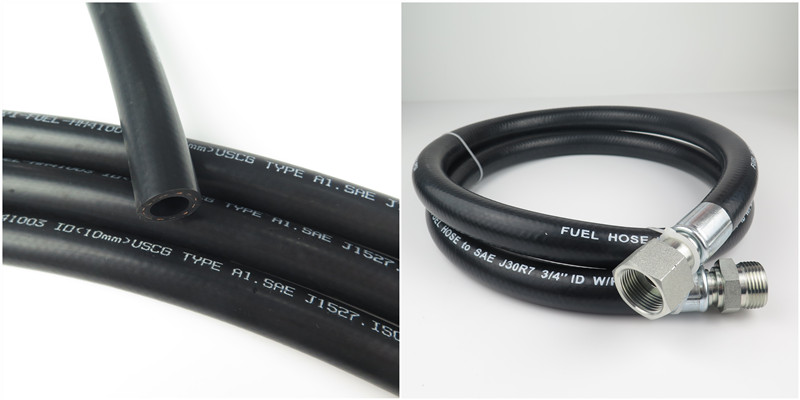 ④ SAE J1527 and ISO7840 Marine Fuel Hose
Key Performance:
• EN/DIN and new SAE rated working pressures
•High aging resistance Fuel application with push-on fittings (clamps recommended in fuel applications)
• Appearance: Wrap( I.D less than 25.4mm smooth cover)
• Branding: Printing,coding and indelible branding with embossed technology
• Colour: Black ,red ,blue,yellow,green,gray
Applications:
• Push-on hose for low pressure lines, return lines, drain lines
• Used in fuel system or in the crankcase of internal combustion engines in mobile (truck, bus, off-highway, vehicles), stationary and marine applications
• Mineral oils, vegetable and rape seed oils, glycol and polyglycol based oils, synthetic ester based oils, oils in aqueous emulsion, water, diesel fuel, gasoline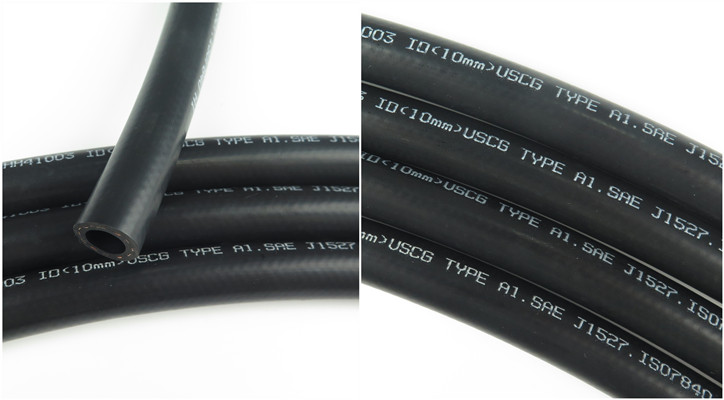 ⑤ SAE J1527 TYPE A2 Shipboard Oil Tank Connecting Hose
Key Performance:
• S Dets or exceeds SAE J2006 R2 standards for wet exhause service and approved by LLOYDS
• Appearance: Wrap surface or Broad convex surface
• Branding: Printing
• Colour: Black
Applications:
•Type certified for marine wet exhaust service
•heavy wall reinforce SDnt with multiple plies of synthetic cords.suitable for exhaust gas from water cooled stationary or marine diesel engines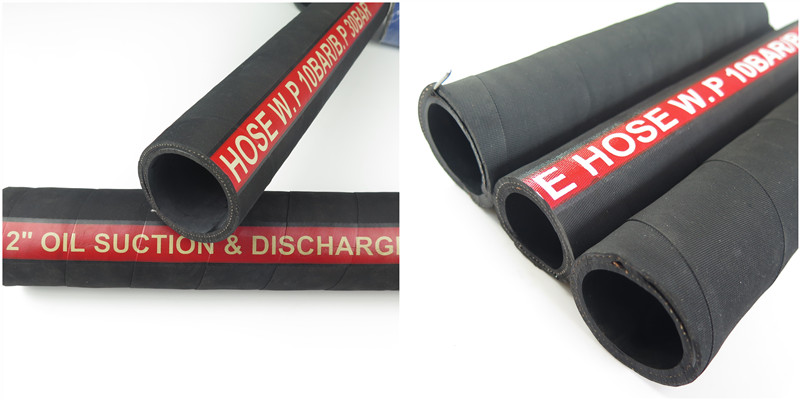 ⑥ Marine Suction and Drain Hose
Key Performance:
• Meets or exceeds SAE J2006 R2 standards for wet exhause service and approved by LLOYDS
• Appearance: Wrap surface or Broad convex surface
• Branding: Printing
• Colour: Black
Applications:
•Type certified for marine wet exhaust service
•heavy wall reinforcement with multiple plies of synthetic cords.suitable for exhaust gas from water cooled stationary or marine diesel engines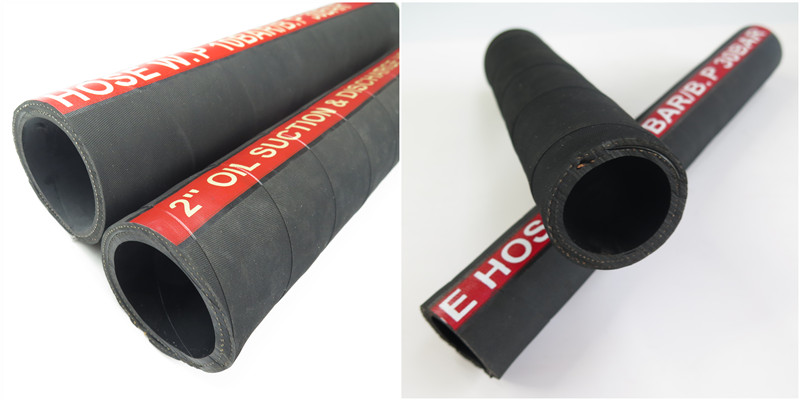 ⑦ CCS Marine Exhaust Hose
Key Performance:
• Meets or exceeds SAE J2006 R2 standards for wet exhause service and approved by LLOYDS
• Appearance: Wrap surface or Broad convex surface
• Branding: Printing
• Colour: Black
Applications:
•Type certified for marine wet exhaust service
•heavy wall reinforcement with multiple plies of synthetic cords.suitable for exhaust gas from water cooled stationary or marine diesel engines
Yatai has its own technical research and development team, both product production and quality control have strict operating procedures, and the company's products are certified by CCS classification society, which can provide you with more quality services~
Technical consultation:15603187112 (WeChat synchronization)
QQ:1002484820
E-mail:lotus@chnhose.com